Free shipping
Free shipping (InPost Paczkomaty 24/7) on orders of €82.20 and more.
Product of the Day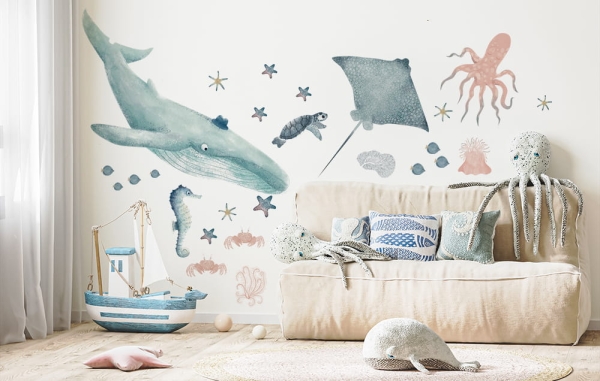 27 Sea Animals wall sticker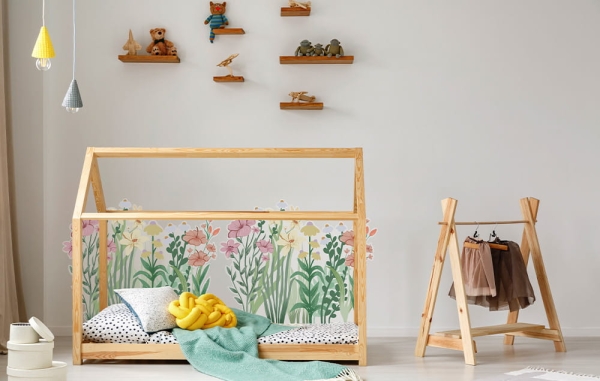 Idea
As mothers, we know that children's development is crucial. At the same time, we are aware that no memories are more beautiful than those of happy moments spent together. They affect the development of our children.
We believe that artistic sensitivity is awakened in children from the first days of their lives.
We create home furnishing elements that tell beautiful stories and take care of the development of children's both aesthetic and artistic sensitivity. We can create and develop stories based on them together with our children. We can also let them play with the tale characters on their own, building their creativity and experiencing beauty.
Why is the development of aesthetic and artistic sensitivity important?
We can cater for the development of visual-spatial intelligence and artistic sensitivity of our children from the first days of their lives. At first, children only notice contrasting images. However, they quickly become curious about colours, shapes, and textures. As time passes, they begin to notice the beauty of colours, shapes; they also begin to recognize characters: people, animals or plants. Reading tales and showing children beautiful illustrations while involving them in the whole process, we develop their aesthetic sensitivity and creativity. People with highly developed visual-spatial intelligence are empathetic and confident individuals. Aesthetic development has influence on imagination, which is essential for learning about both oneself and the surrounding world. Research also indicates that developed aesthetic sensitivity affects children's intellectual development (Hideaki Kawa, 1999; Semir Zeki, 2001).
Fundamental in aesthetic education is surrounding children with beauty. Beauty is not uniform. It is not ONLY bright, ONLY pastel or ONLY vividly colourful. Beauty has different colours, shapes, and dimensions. Beauty interprets reality in different ways. Choose for yourself what kind of beauty you want to surround your children with.
What is the idea behind Printed Stories?
Each collection of our wallpapers and stickers has been created by a different artist. This guarantees a variety of styles; everyone will find something for themselves. The collections show scenes from a fairy tales written by Weronika Szelęgiewicz. You will receive the fairy tale as a printed mini-book when you order a mural wallpaper or a set of stickers (small or large). These products will allow you to constantly create new stories and an infinite number of games.
The fairy tale is a gift from us to start this special adventure. Parents can start by reading it together, getting to know the characters: learning their names, friends, and adventures. Then, together with Children, they can touch them; see what shapes and colours they have. How will the story end? What will be the next adventures of its characters?
We will not leave parents with just stories and a simple slogan to motivate them to play with their children. On our blog, we will create regular posts full of inspirations that will allow you to play with Children, developing their aesthetic and artistic sensitivity. Take a look there, please.
Right now you will find there:
1. Visual-spatial intelligence - what is it?
2. 6 fun ideas with Printed Stories products.
3. Wallpapers that will change your child's room.
4. An idea for peace with the underwater world.
Soon you will read:
1. Why is reading together so important?
2. How to tell fairy tales to children?
3. How to talk to children about art?
4. Play as a way to be in a relationship with the child
5. 5 ideas to decorate a room with a child using the gifts of nature
6. Don't throw us out! or ideas for playing with our cardboard boxes
7. A room idea for mermaid lovers
Products in the collection:
Wallpaper mural showing a scene from a fairy tale with all the characters
Seamless pattern wallpaper, the perfect supplement of the sticker collection or mural wallpaper
Wall stickers, an alternative to the mural wallpaper, where you find all the characters and elements (in two sizes)
Height sticker

Posters showing tale characters
You will also find collections of basic patterns that can enhance the setting of any story.
We created each collection for our Children. After all, they were the first testers at each stage! We ensured the safety and high quality of our products. Since we believe in sustainable development,  we have decided on the shortest possible supply chain. We work with Polish partners who, like us, understand that creating products for children requires extraordinary care.
We wish you great fun in discovering and creating new worlds together!
Kaha Ejdys-Kalwasińska and Magda Troszyńska